ID6.2 is a remote control system for airports and display all relevant system parameters on one screen.
Applications:
+ compact control tower and AFIS workplace
+ relocation of workplaces in other buildings or rooms
+ monitoring of all systems by technical staff
+ remote control by aircrews
+ remote control by ACC
+ remote control of all systems from home
+ remote control of more than one airport from a control center (Remote Tower)
+ the system ID6.2 save time an long ways
+ ideal for large airport terrains and far away facilities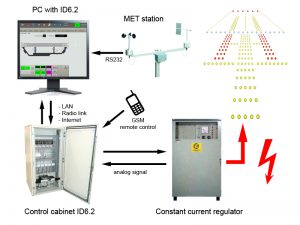 Technical capabilities:
+ display of meteorological data
+ control of runway and taxiway lighting and brightness
+ embedding of surveillance cameras
+ monitoring of CCR status
+ remote control of doors and gates
+ starting of power generators
+ switching pumps and electrical motors
+ switching of lights in buildings
+ remote control of VHF radio stations
+ remote control of intercoms
+ remote control of navigational aids such as VOR, DME, NDB, ILS
+ webinterface and control via apple I-Pad
+ combinaton of more towers in one control center
+ remote maintenance and customization without presence on site
The versatility of this system is ideal to create cost effective remote tower solution. It offers comprehensive monitoring and control of all necessary systems on site as well as from any other authorized work place on the world. With ID6.2 a few airports can be controlled and monitored by one controller. A high level of service can be provided at remote airports with low traffic or during night time.
[slideshow_deploy id='527′]
ID6.2 has also advantages for military applications. Airports and systems can be controlled and monitored from command posts – also during times when there is no personel on site. In the event of alert, all systems can be prepared with a few mouse clicks. Time from alerting until arriving of personel can be used in reasonable manner.
The system ID6.2 is installed in Magnitogorsk/Russia as well as on our test location at Bautzen airport. German ATC service, the life rescue control center, the on site based rescue helicopter and the Bautzen airport staff can access remote functions. The system ID6.2 works without maintenance since 2014. ID6.2 is configured according customer specifications to each airport seperately. There is a high economic value when starting to work with ID6.2.